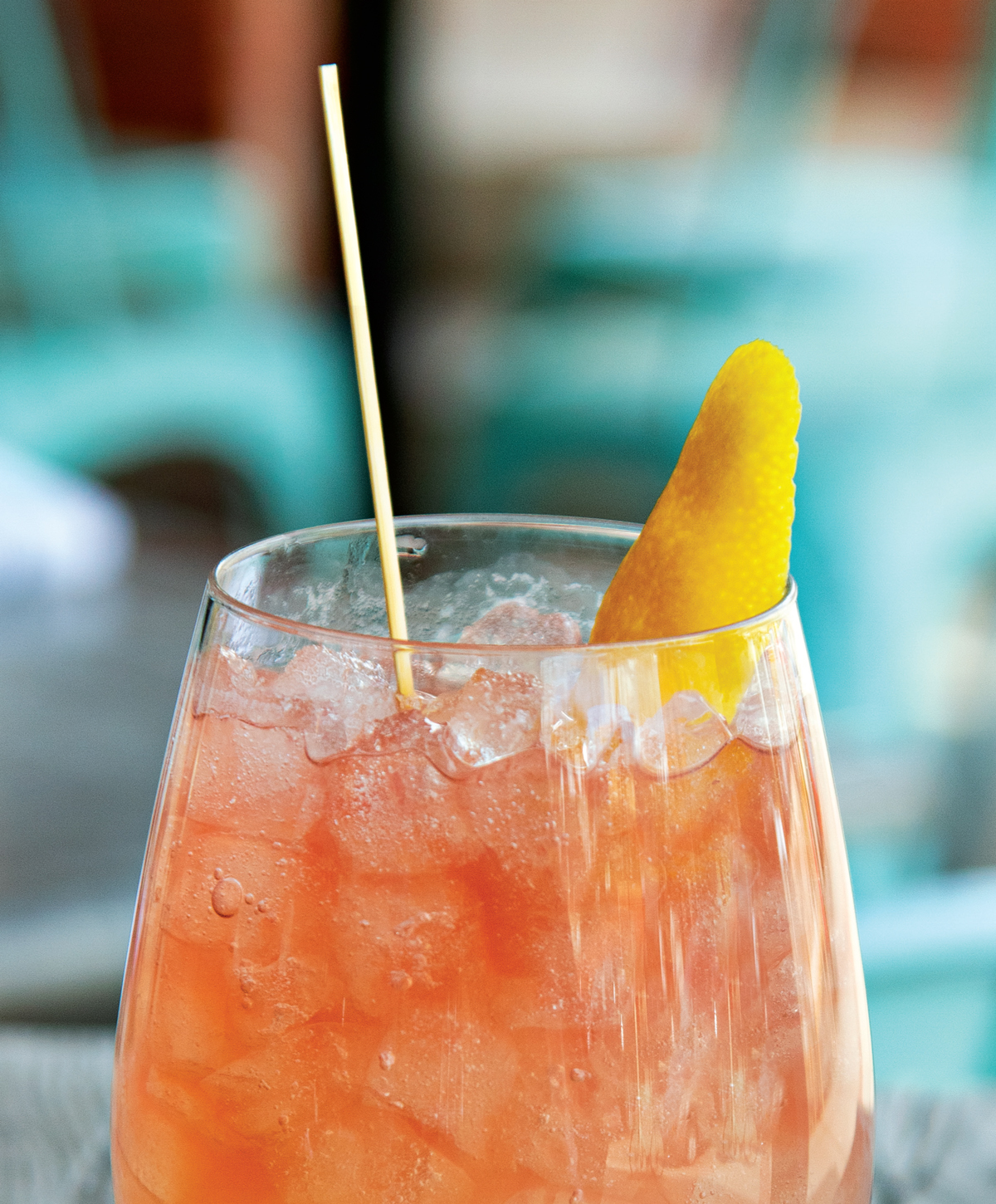 Good Taste
25 Ways to Savor Summer
The delectable dishes, cool drinks, and exceptional experiences you must try this summer
Warm weather enhances what we eat and drink. Think of the way downtown Aspen buzzes on a soft June evening, the clinking of glassware and bursts of laughter spilling out from open restaurant windows and patios. Fresh produce from local farms starts to appear on menus. We crave fruity juices and cocktails, a salad that's interesting enough to be a meal, a primo outdoor table for people watching. Here's where to find our pick of these things and more, encapsulating the best of the season.
1. Frosé
Limelight Hotel Aspen
The hotel lounge's frosé machine twirls throughout the summer, producing a perfect combo of dry rosé, simple syrup, and crushed ice—envision a very refined Slurpee—that became a fast favorite when it was introduced two summers ago. A juicy strawberry rides on top. Try one (or more), and "frosé all day" may become your catchphrase of the season. 355 S Monarch St, 970-925-3025, limelighthotels.com
2. Heirloom Tomato

and Burrata Salad
Jimmy's

Too good to be lost, this flavor-packed salad—formerly on the menu at Jimmy's Bodega, which closed at the end of last summer—has found a new home at the original Jimmy's restaurant. In addition to creamy burrata and fresh tomatoes, the dish includes Western Slope–grown greens, pickled red onions, and—perhaps unexpectedly—watermelon. For even more texture and crunch, house-made green tomato croutons top it all off. 205 S Mill St, 970-925-6020, jimmysaspen.com
3. Don Pedro Milkshake
CP Burger
CP Burger is known for being kid-friendly, with counter-service fresh food and a casual vibe, but adults can indulge in one of the thoroughly grown-up spiked milkshakes. Try the Don Pedro, which reflects co-owner Craig Pearce's South African roots—a vanilla milkshake enhanced by either Kahlúa, whiskey, or (the traditional ingredient) Amarula. You can't leave the premises with the alcoholic shake, but take advantage of the chance to play Aspen's only mini-golf course outside while you sip. 433 E Durant Ave, 970-925-3056, cpburger.com
4. The outside corner table
French Alpine Bistro La Crêperie Du Village

One of Aspen's most in-demand tables? The one atop the stairs outside this charming European eatery. Complete with cushioned couches and an oversize sunshade, this privileged perch at the corner of Mill and Hopkins allows you to see and be seen. Pair your people watching with a glass of Sancerre and the Chèvre Chaud, a generous slab of baked goat cheese accompanied by truffle honey, rosemary, and a crisp baguette for light-on-feel, heavy-on-taste afternoon nibbles. 400 E Hopkins Ave, 970-925-1566, frenchalpinebistro.com
5. Aspen Elixir
Meat & Cheese Restaurant and Farm Shop

This vitamin-packed cocktail feels just healthy enough that you could justify enjoying one on the patio after a late-morning hike. The base: one of four rotating flavors of kombucha on tap—pomegranate-blueberry, cranberry-cherry, strawberry-ginger, mango-coconut—all from local producer Elevated Elixirs. With La Caravedo pisco, green Chartreuse, and a bit of honey added in, the result is a fresh and savory thirst quencher. 319 E Hopkins Ave, 970-710-7120, avalancheaspen.com
6. The view from So Café
Aspen Art Museum

The concise yet inspired menu changes weekly, but this rooftop aerie's panoramic view, from Independence Pass to Shadow Mountain, offers steady serenity. Whether you come for late-morning espresso and croissants, one of the beautifully plated salads or sandwiches at lunch, or a midafternoon glass of wine, the light-filled space—with indoor and outdoor seating—provides a stunning backdrop. This summer, the adjacent Roof Deck Sculpture Garden features Los Angeles–based artist Oscar Tuazon's silo-like concrete firepit. 637 E Hyman Ave, 970-925-8050, aspenartmuseum.org
7. Peaches and Crème Crêpe
The Crêpe Shack
Mawa's Kitchen opened this outpost in Snowmass's Base Village last winter, and the counter-service spot quickly amassed fans of its savory and sweet crêpes, which include the option of vegan, gluten-free buckwheat batter. We can't wait to try this new-for-summer menu item, made with Colorado peaches, cheesecake cream, toasted almonds, and lavender whipped cream. Enjoy the decadent treat while taking in some entertainment on the adjacent events lawn. 61 Wood Rd, 970-452-2137, thecrepeshack.com
8. Bauhaus-Inspired Beer


Aspen Tap

To help celebrate the centennial of Bauhaus—the German art school that influenced design and architecture in modern-day Aspen—the Aspen Brewing Company unveils its summer-only Ajax Pilsner in a limited-edition can. Taking its cue from the work of artist Herbert Bayer, who moved to town in 1946, the can sports Aspen's Bauhaus 100 logo, created for the celebration by local firm Kissane Viola Design. Inside, you'll find a thirst-quenching brew flavored by spicy hops, with a floral aroma and the distinctive taste of pilsner malt. 121 S Galena St, 970-920-2739, aspenbrewingcompany.com
9. Whole fish

of the day


The Wild Fig
Among this small, charming spot's Mediterranean options, the whole fish consistently earns high marks. Typically loup de mer (a.k.a. European sea bass), it's marinated in citrus, chile, garlic, and herbs, then grilled until crisp and moist. Accompanied by a light dressing of lemon and garlic white-wine sauce, the dish is guilt-free enough to pair with a side of frites. Order up a glass of Assyrtiko (from Santorini), and you'll practically hear the Aegean waves hitting the shore. 315 E Hyman Ave, 970-925-5160, thewildfig.com
10. Margarita


White House Tavern
Bartenders here add fresh-squeezed lemon, lime, and orange juices to house-made sour mix, creating a bright, fresh flavor that helps counteract the midday heat—and leading at least one bartender to affectionately nickname these margaritas "patio pounders." Blanco Espolòn tequila, triple sec, and egg-white foam round out the mix. Offset the potent impact with a tangy Thai steak and noodle salad while you watch the sun play across Aspen Mountain. 302 E Hopkins Ave, 970-925-1007, aspenwhitehouse.com
11. Tipsy Tourist


Slow Groovin' BBQ
Don't have time to trek an hour to Marble to enjoy Slow Groovin's beloved barbecue? Satisfy your craving at the Snowmass Village location. Grab a place on the patio and order up a Tipsy Tourist, perfect after a Rim Trail hike or bike. This monster of a sandwich overflows with pulled pork, sausage, and brisket, all topped with slaw, pickled veggies, and a hefty serving of melted cheddar. It won't make you tipsy, but it will make you full. 67 Elbert Ln, Snowmass Mall, 970-429-4761, slowgroovinbbq.com
12. Artichoke Salad


Casa Tua
This high-style restaurant may be known for the homemade pastas on its northern Italian–inspired menu, but for a lighter dish try this simple, fresh salad composed of sliced artichoke hearts on a bed of arugula, tossed with a house-made lemon dressing. Shaved Parmigiano-Reggiano balances out the tangy toppings, while walnuts add a satisfying crunch. Pair it with a glass of Italian wine, of course—the 2017 Livio Felluga pinot grigio goes perfectly. 403 S Galena St, 970-920-7277, casatualifestyle.com
13. Warrior Pudding


Element 47
Instead of eggs, bacon, or French toast before an active day outdoors, opt for this cool and creamy concoction, which provides a hard hit of superfoods like quinoa, chia seeds, hemp hearts, and oats. The porridge-like texture comes from raw pumpkin seeds and dried gooseberries that soak up a coconut-milk base. Add fresh berries on top for a touch of sweet. Better yet, eat it on Element 47's shady patio, in full view of The Little Nell's flower-fantastic living wall. In The Little Nell hotel, 675 E Durant Ave, 970-920-6330, thelittlenell.com
14. Tuna Tartare


Steakhouse No. 316
Yes, we're sending you to a steak house to order fish. As good as the rib eye and other prime cuts of meat are here, this lighter option appeals in summer. (It's also an ideal dish to share at the bar.) Sizable pieces of sashimi-grade tuna are tossed to order with cornichons, shallots, capers, and Dijon, then plated with house-made crème fraîche and pesto. The best strategy: mix it all together with the accompanying green peppercorns, micro cilantro, and crostini for a mélange of bold flavors. 316 Hopkins Ave, 970-920-1893, steakhouse316.com
15.

Grilled Spanish Octopus
Toro

The Latin American fusion menu here is meant to be shared and savored. This summer, we're anticipating the grilled Spanish octopus, simmered in a light broth for five hours until tender, then charred on the grill. Offset the kick of chiles, oregano, and garlic in the accompanying Anticuchera sauce with a side of tri-colored Peruvian potato salad tossed with cucumbers and spring onions. In the Viceroy Hotel, 130 Wood Rd, Snowmass Village, 970-923-8008, viceroyhotelsandresorts.com
16.

Beet Mezzelune
Ellina
It's hard to go wrong with any of the house-made pastas at this contemporary Italian gem, but this summer we're particularly looking forward to these half-moon raviolis stuffed with roasted beets, ricotta, and Parmigiano, then lightly browned and tossed in a dressing of fire-roasted Olathe corn and sage. Best to enjoy them on the mall-level patio—which got a refresh this summer—with a selection from Ellina's extensive wine list. 430 E Hyman Ave (downstairs), 970-925-2976, ellinaaspen.com
17. Jicama Ceviche
Spring Café

Further proof that healthy doesn't have to be boring: this organic eatery's vegan twist on the classic fish dish. Instead of snapper or halibut, the star ingredient is crunchy, juicy jicama, which is diced along with cucumbers, red onions, Roma tomatoes, and mango, then marinated in a dressing of lemon juice, olive oil, jalapeño peppers, cilantro, and salt and pepper. Scoop up the flavor-packed mixture with corn chips.
119 S Spring St, 970-429-8406, springcafeaspen.com
18. Blended Black and White


Ink Coffee

Before smoothies became ubiquitous and when Frappuccinos were just in their infancy, Aspen's homegrown Ink coffee roaster was serving the ice-cold, slushy treat that's now a classic local favorite. Take the edge off a hot afternoon or get a midday caffeine boost with this mix of two shots of espresso, powdered white and dark chocolates, milk (soy if you must), and crushed ice. Simple, yet satisfying. 520 E Durant Ave, 970-544-0588, inkcoffee.com
19. Louis Swiss

Pastry Soft Pretzels


Aspen Saturday Market

A longtime favorite at the summer-long, bustling farmers market, the Louis Swiss booth, which takes up nearly half a block by the Hyman Avenue entrance, serves up an array of freshly baked breads, pastries, and other treats. Everything is made using non-GMO sugar and unbleached flour, then baked in European-style steam ovens and transported to the market. Our favorite: the plate-size soft jalapeño pretzel, perfectly doughy on the inside with hits of subtle spiciness throughout. aspen-saturdaymarket.com
20. Rotisserie Chicken Picnic Dinner


The Artisan

Sure, you could pick up supermarket salads or chips and dip when heading to the free Thursday night concerts at Snowmass (or any other event that calls for picnicking), but why not go gourmet with this full-fledged carryout dinner? The succulent full chicken serves two to four, along with sides of Napa cabbage slaw, jalapeño corn muffins, and sweet corn succotash that's gussied up with garlic, tomatoes, and basil. Request your meal in the Instagram-worthy loaner picnic basket and order up extra corn muffins—they're that good. In the Stonebridge Hotel, 300 Carriage Way, Snowmass Village, 970-923-2427, destinationhotels.com
21.

Sixty South Salmon
7908

This mouthwatering entrée starts with farm-raised salmon from Antarctica, where glacial water lends the fish a clean, mild flavor. Pan searing then crisps up the skin just so. Rounding out the dish are the perfect complements: a lightly crunchy, bright-tasting blend of beluga (black) lentils, pearl couscous, pine nuts, and diced apple and parsley stems, along with citrus beurre blanc. The usual finish upon ordering: a clean plate. 415 E Hyman Ave, 970-516-7908, 7908aspen.com
22.

Strawberry Rhubarb Petit Gateau
Plato's

Pastry chef Aleece Alexander regularly turns out new masterpieces from her ovens, and we can't wait to try this one, which will stay on the menu all summer. The fruity concoction, using fresh bounty from the North Fork Valley, features caramelized rhubarb encased in a sphere of white chocolate mousse, as well as a glazed red "strawberry" of basil ganache with real strawberries at the center, garnished with vanilla mascarpone, citrus meringue, and micro mint. Summer on a plate! 845 Meadows Rd, 970-544-7824, platosaspen.com
23. Ceviche Bonito


Betula

We wager it's difficult to find a more authentic Peruvian ceviche in the middle of the Rockies. Generous pieces of striped sea bass lie within the spicy marinade known as leche de tigre, while kernels of choclos (large Andean corn) and crunchy canchas (toasted corn) add texture. A burst of unexpected flavor comes from the wedges of sweet potato, another traditional ingredient, which also help take the edge off the spice. Buenísimo! 525 E Cooper Ave (upstairs), 970-429-8683, betulaaspen.com
24. Grapefruit sorbetto and

ginger-cookies-and-cream gelato


Paradise Bakery
All 24 flavors of the bakery's house-made gelato and sorbetto merit a thumbs-up, but these two, in particular, capture our fancy. Thanks to the fresh grapefruit purée in each batch, the palate-cleansing sorbetto packs a robust—yet not too tart—punch of citrus with each bite. In an inventive twist on the standard cookies and cream, chewy chunks of ginger molasses cookies perk up gelato spiced with ginger, fresh and ground. Heavenly, indeed. 320 S Galena St, 970-925-7585, paradisebakeryaspen.com
25. Ride and Dine

Dinner Series


The Little Nell
August and September TBA

A bike ride up the beautiful Castle Creek Valley to a historic lodge, combined with the Nell's culinary expertise and five-star service? Yes, please. Whether you're a traditional roadie or an e-biker, begin by selecting wine from the Nell's copious cellar, then cycle 13 miles to the appealingly rustic Catto Center at Toklat. Change into clothes shuttled by the hotel (along with your wine), then drink in the view—the Aspen Center for Environmental Studies manages Toklat—along with some sparkling wine. Feast alfresco from a buffet featuring produce from ACES's Rock Bottom Ranch, then get chauffeured back to reality. 675 E Durant Ave, 970-920-6330, thelittlenell.com
Update: This year's dinners have been switched to Mad Dog Ranch in Snowmass.