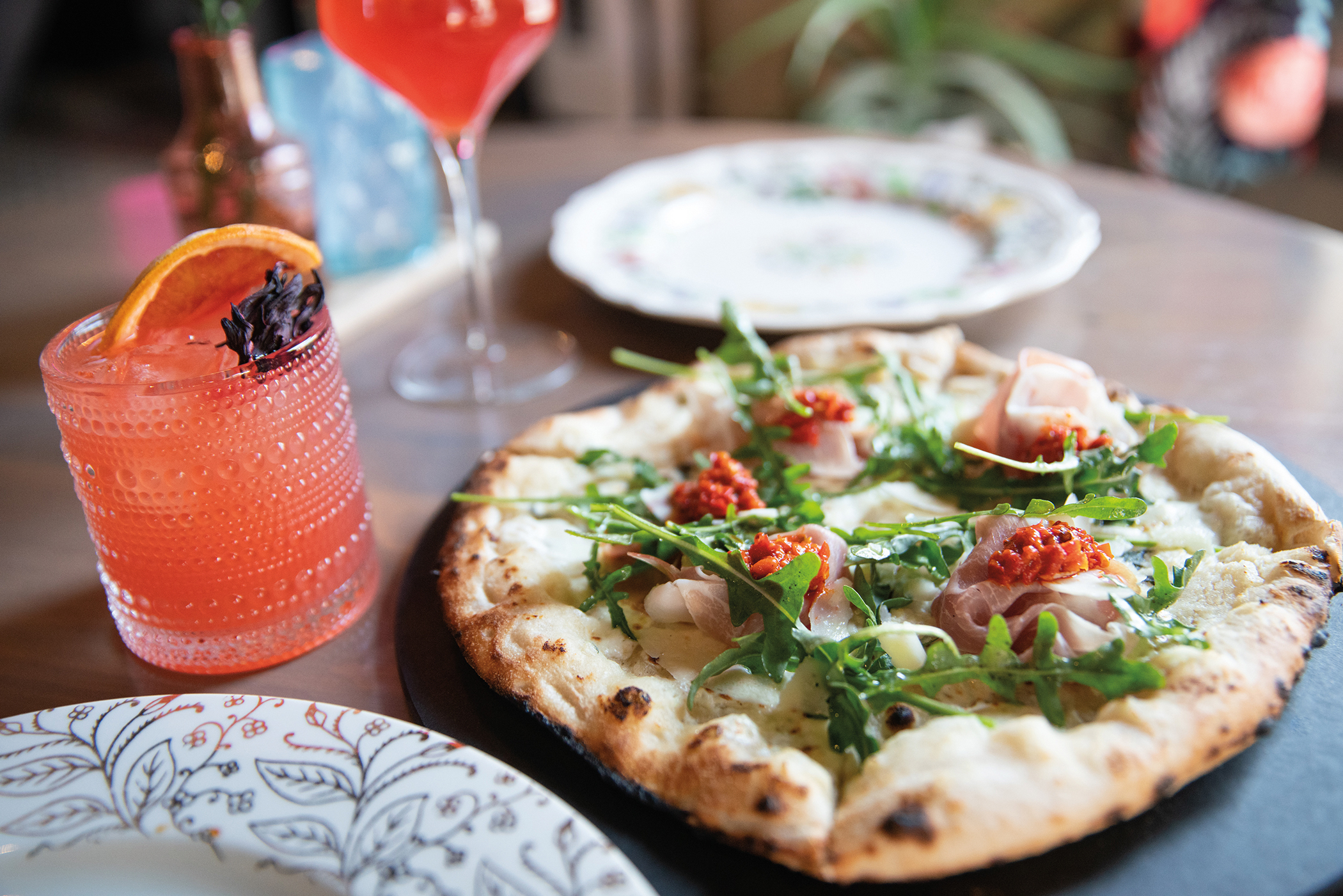 Next at the Plate
The Roaring Fork Valley's Dining Scene Gets Some New—and Reinvented—Players
Aspen newcomer Catch Steak joins a Snowmass outpost of local fave Kenichi and an expanded menu at Carbondale's Batch Provisions, plus other tasty bits.
Forced to close, pivot, pivot again, reopen, reinvent their outdoor dining spaces, and keep their guests and staff safe during the coronavirus pandemic, Roaring Fork Valley restaurants and bars have had a whirlwind year-and-a-half. Unfortunately, some didn't make it. But for others, the pandemic—and its ever-changing conditions and rules—carved out unexpected space for growth and reinvention. Here's what's new in the world of food and drink in Aspen, Snowmass Village, and Carbondale.
A good catch for Aspen
For some restaurateurs, the pandemic served as a springboard for expanding into Colorado. Mark Birnbaum, co-owner of Catch Hospitality Group, spent all of July 2020 in Aspen and fell in love with the mountain views from the rooftop at 515 E Hopkins Ave (previously occupied by Scarlett's).
Now, a year later, he's putting the finishing touches on the new Aspen location of Catch Steak, a modern steak house and seafood restaurant he opened in New York in 2019. Another one in Los Angeles is set to open this fall.
Catch Steak is a spinoff of the group's successful seafood-centric Catch restaurants in New York, Los Angeles, Playa del Carmen, and Las Vegas. With hand-selected steaks from premium farms in the United States and Japan, scratch-made sauces and marinades, and an array of seafood options, Catch Steak is a lighter, fresher take on a classic steak house, Birnbaum says.
"There was so much about this location that spoke to us, from the discreet lobby entrance and elevator to the incredible indoor/outdoor rooftop with expansive views and wraparound terrace," Birnbaum says. "The bones are so much like those of an ideal Catch location, you would think we built it from the ground up just for us."
Added benefits in Base Village
Restaurant owners are also breathing even more life into Snowmass Base Village. Longtime Aspen sushi spot Kenichi—which has a sister restaurant, Izakaya, in Carbondale—will open in Snowmass in late summer. Aurum Food & Wine, an upscale restaurant serving seasonal, New American fare in Steamboat Springs and Breckenridge, plans to open its Snowmass outpost in late fall.
For Kenichi owner Brent Reed, the expansion feels like a natural next step. "As the Aspen-Snowmass connection gets a little bit stronger, as the development grows over there and there's a little more year-round business in both Aspen and Snowmass, it seemed like the right fit," he says. "We're really proud to bring some great food and some great jobs to Snowmass."
Though the pandemic created challenges for Kenichi and Izakaya, Reed says he tried to stay nimble and keep a positive outlook throughout the last year, an attitude that also helped propel him to open the Snowmass restaurant. "All negatives can be turned into a positive," he says. "'Stay calm and carry on' was the motto I tried to follow and I'm still trying to follow."
Meanwhile, Destination Hospitality Group's Phil Armstrong considered bringing Aurum to the Roaring Fork Valley many times over the past five years but never found quite the right landlord—until he started talking with East West Partners about Snowmass Base Village.
When Aurum opens this fall, Armstrong expects the restaurant's unmatched brand of hospitality to draw in diners, even from Aspen. "We want people to leave feeling like, 'Wow, that was such an incredible hospitality experience; they paid such attention to detail,'" he says. "That's what's set us apart in every other market that we've entered. We put a lot of emphasis on the personal touches and remembering peoples' names and preferences."
Cocktails and pizza in Carbondale
For the owners of Carbondale's Roaring Fork Beer Company and its Main Street tasting room, Batch, the pandemic provided an opportunity to sell the brewery and reenvision the latter as a full-scale bar, now called Batch Provisions.
Husband-and-wife duo Chase Engel and Aly Sanguily sold Roaring Fork Beer Company to the investors behind Carbondale's Idylwilde Brewing last summer. At the same time, the couple pursued a full liquor license for Batch, which previously served only Roaring Fork Beer Company brews.
Now, the menu features many other craft beers, wine, and house-made cocktails (and mocktails). When Batch Provisions opened in March, diners could also take advantage of another new offering: artisan Neapolitan pizzas.
"It was an opportune time to sell, and although it was bittersweet, we now have a full bar, which we have always wanted and envisioned," Sanguily says. "It's been a whole new world since reopening. We have been at capacity every day with our customers really feeling stoked on all of the new offerings, and we are opening our demographic to people who wanted to hang at Batch but weren't beer drinkers."

New Nibbles
Chef Mawa McQueen, who owns Mawa's Kitchen in Aspen and the Crêpe Shack in Snowmass Base Village, has launched a new organic snack brand, Mawa's GrainFreeNola ($14.95/bag). All five flavors are paleo, vegan, keto, and gluten-free, and each blends organic nuts, seeds, dried fruits, and ingredients like hibiscus flowers and shredded coconut.
The Beat in Carbondale, which pivoted to grocery and meal-kit sales during the pandemic, reopened once again as a veggie-centric restaurant in June. In addition to indoor dining, the restaurant launched the Beat Backyard, with a more casual, limited menu. "Think perfect outdoor happy hour and evening space surrounded by copious amounts of flowers," says co-owner Lucy Perutz.
After 33 years in Aspen, Piñons closed in early April. Its downtown space will be filled by Casa D'Angelo, a popular Florida-based Italian restaurant owned by Chef Angelo Elia, who has a house in Snowmass.
Following a winter pop-up at the Snow Lodge, Dante—the historic New York bar and restaurant owned by couple Linden Pride and Nathalie Hudson—has taken up a year-long residency at the Chefs Club inside the St. Regis Aspen Resort. The menu features produce-driven, coastal Italian–inspired dishes and seasonal cocktails.
Longtime Aspen restaurateur Rob Ittner, most recently of Rustique, now directs food and beverage services at Anderson Ranch Arts Center in Snowmass Village. He'll oversee the café as well as culinary special events.